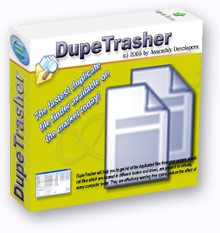 What is DupeTrasher?
DupeTrasher will help you to get rid of the duplicated files from your system, fast and easy. Identical files which are located in different folders and drives, are present on virtually every computer today. They are effectively wasting free space, reduce the effect of defragmentation tools yet increase the mess on the volumes and tend to confuse users.
Yet another duplicate file scanner?
We think it's not, but this is up to you to decide. From our experience, some very popular software packages have this option in their features set, but it's has rather poor design. They tend to completely hang or even crash the system when large number of files are included into search. Of course we are not going to name any of those applications here. Advanced algorithm combined with the raw power of assembly language gives you the fastest duplicate file finder on the market, as far as we know. This is not just a cliché sentence, until today we were unable to find some other utility of this kind that is faster, more optimized and lower memory consumer than DupeTrasher. This is especially true when it comes to a search of the large number of files. However, if you prove us wrong and find such application, please let us know, we will give you DupeTrasher license for
free!
Some performance
benchmarking
has been done to prove the previous statement. For more details
click here
.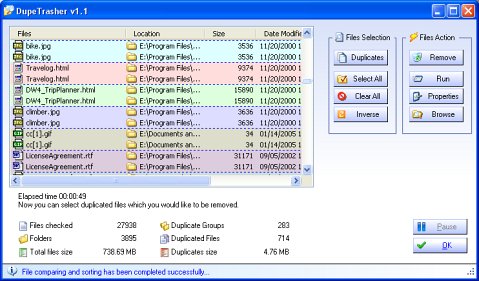 Duplicates are sorted and grouped by using different colors
Features
Intuitive interface enables you to highly customize search with the following features:
Select what locations to be searched, such as whole volumes or just specified folders.
Specify which files to be included in the search, and which to be skipped such as system files or users backup.
Search files of the specified date, size, pattern, attributes...
Comparing files by name, size, modification date, attributes and, as the safest option, fast byte-to-byte contents comparing
Remove duplicated files by deleting them into recycle bin or permanently. Additionally you can move them into specified folder.
Technical details
DupeTrasher was written completely in Win32 assembly, as a standalone executable file with no third party libraries or DLL dependencies. Program size is only about 130kb and no compression has been used. It was designed to run on the Windows 98/ME/2000/XP/2003. Smart application crash system is implemented, in order to give you ability to report us any bug that may arise.
Registration details
You are free to download and try a demo version of this application. Limitations are:
'Remove duplicated files' option is not present.
Settings you change are not saved. This means every time you run the program, all settings will be set to default.
Small trial version notify window is shown, after first search is done.
If you decide to purchase the full version, you will receive full installation package with all options enabled. Price of the full version is only $14.95.