TaskPatrol 2
Ever wondered what hidden features applications installed on your computer have? Scratching your head with no clue of what are those tasks with cryptic name and no user interface running on your system? TaskPatrol gives you answers to these and many other questions!

TaskPatrol is the arsenal of security tools designed to give you complete overview of software running on your system, in a comprehensible and easy to understand way.

Introduction
With the set of advanced security techniques, TaskPatrol is able to identify and remove malicious software from your computer. These include, but are not limited to, malware, spyware, adware, trojans, backdoors, suspicious browser helper objects... Unlike other similar software, TaskPatrol implements a security engine capable of analyzing applications and finding potentially dangerous features and contents within them. Each suspicious property found will be presented to the user in a non-technical easy to understand way, with suggestions on how to handle it. These unique features enable TaskPatrol to spot even currently unknown malware which are not present in any database today.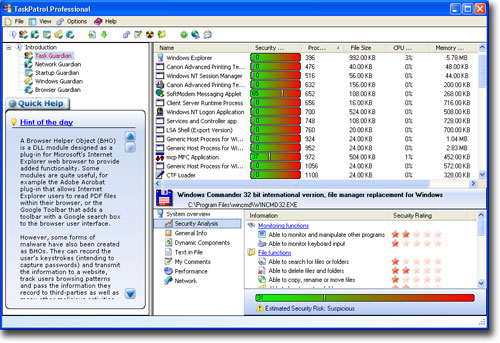 TaskPatrol's main window

Features
Task Guardian is the most exciting program feature and can be defined as the advanced process viewer but it is whole lot more than that! Task Guardian is able to get very detailed information about each running application, features implemented, human readable contents and potentially malicious activities. Security engine implemented in it analyzes active applications as they run and mark potentially dangerous features and contents within them. Equipped with features not available in any other process viewer and with the "running in the background" feature, Task Guardian is an excellent replacement for the standard "Task Manager" which comes with every Windows.

Network Guardian gives you the complete overview of all active network connections on your system. Spyware, adware and trojans are designed to communicate with their authors via Internet. For example spyware use internet to send your private data to the central server, adware to receive ads from the server to your desktop and trojans are silently waiting for hackers to remotely connect to your system. From now on you will have control over programs with networking features, once suspicious connection is noticed you will be able to close it or even terminate the risky program.

Unfortunately instead of one, Windows has many, more or less known, ways to start some third party program. This gives many headaches to users since it can be really hard to keep an eye on all of them. Malware exploits this by trying to unnoticeable auto start, not rarely using those less known methods. With the Startup Guardian you will be able to take your auto-started programs under control.

Windows folder is an often hideout place for malicious software. Thus it is the most often place where malware installs it selves. With this feature you can list all unknown programs in the Windows folder with much information about them. Windows Guardian will examine the programs, find the product to which they belong, analyze them and mark with the appropriate risk color.

Microsoft's Internet Explorer web browser is the integral part of every Windows and thus most widely used browser today, but also itís probably the most malware susceptible part of your system. A Browser Helper Object (BHO) is a DLL module designed as a plug-in for Internet Explorer to provide added functionality. These plugins are used widely today, since they can add new features to the Internet Explorer; however it is also the fact that more and more malicious software is taking advantage of this. Browser Guardian will protect your Internet Explorer from these unwanted plugins known as Browser Helper Objects (BHOs).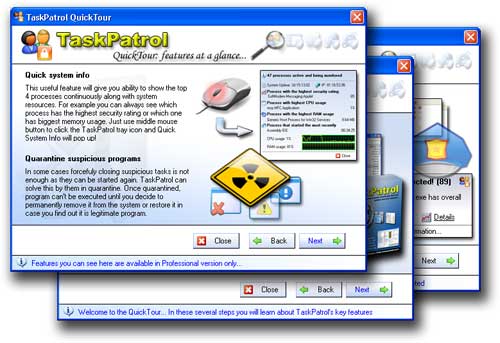 QuickTour introduces you with the key features

Personal and Professional version
TaskPatrol is available in two versions, Personal (Freeware) and Professional (Shareware). Freeware version is just what its name says - free. Itís dedicated to community, itís easy to handle and itís equipped with most commonly used features. With it you will be able to enumerate active tasks, see many information about them with lots of details, have a process security analysis and rating system, and finally ability to terminate the suspicious ones. TaskPatrol Personal presents a great replacement for standard ďTask ManagerĒ located in every Windows.

For users who would like to have even more control over their computer, we have a Professional version. Pro build has all features implemented in the free version plus many more! With Pro, you will be able to configure TaskPatrol to automatically notify you when suspicious process is detected. Equally important, you can set TaskPatrol to watch for tasks with high CPU activity that tends to freeze not only themselves but even the whole system. Once they are detected, TaskPatrol will shut them down and thus giving the user a chance to regain control over computer again, without need to forcefully restart it. Quick summary window is there to show you system resources and several most interesting tasks at the moment. Furthermore, Professional version is equipped with network connections manager, programs startup organizer, Windows scanner and browser plug-in manager.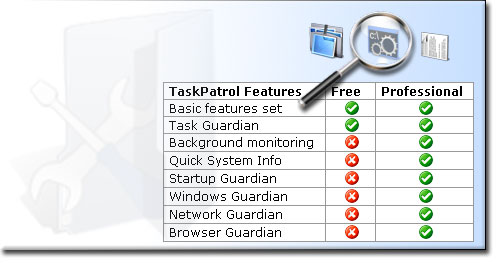 Feature comparison table between the Personal and Pro versions

Translating and localizing TaskPatrol
If you are interested in translating TaskPatrol to your native language please
let us know
. All translators are welcomed and once they are given the official translator status for their language, they will receive TaskPatrol Professional for free.
Note
: Due to technical reasons, only languages that can be represented with 8-byte codes are supported. These include almost all European languages, and other Latin based languages. We are currently not able to include support for UNICODE characters, but it is likely that this will be done in some future version.
Requirement for translator is not only to be fluent in their native language, but also to have enough computer literacy and to have solid knowledge of computer terminology. Advantage goes to people who have already done some translation projects for other software. If you fulfill these requirements let us know with some background details about you and your translation projects (if any).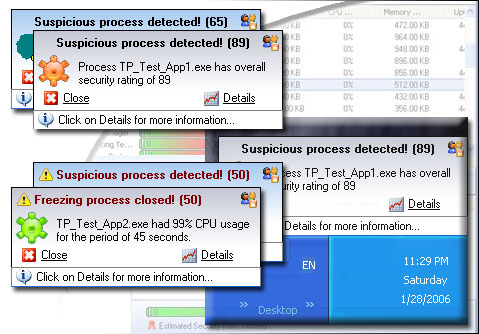 Monitoring features will notify you about malicious and freezing processes

Discounts
TaskPatrol is bundled with
FileGhost
, our other security related software. These two programs are great supplement to each other and they can be combined with your antivirus and firewall to make your system bullet proof. All registered users of TaskPatrol Pro can get
FileGhost
with the
discount of 30%
.
Additionally, if you are registered user of some other product from Assembly Developers then you are also eligible for
20% discount for TaskPatrol Pro
. Feel free to
contact us
in order to get your discount coupon.

Summary
If you found yourself scratching your head sometimes, with the "question mark" expression on your face and thoughts such as: "Huh... What is this invisible program, I do not really remember installing it?" then TaskPatrol is worth a try. With TaskPatrol no application is a running "black box" anymore. Now you can take a peer into application features and get detailed plain-English explanation about them. Ignorance is not bliss, learn everything you can about running programs and take control of them before they take control of your system!